September 28, 2018
Pumpkin in chili? Sound weird? Well, it's nothing short of scrumptious! And serving it in carved out little pumpkins just makes the world a happier place! Happy Friday everyone!

Pumpkin Chili
1 Pound Ground Beef
1 Pound Ground Pork
1/2 tsp Salt
1/2 Pepper
5 Garlic Cloves, Minced
2 Onions, Diced
1 Red Bell Pepper, Diced
1 6 Ounce Can of Tomato Paste
1 4 Ounce Can of Diced Green Chili's (MY SECRET INGREDIENT! Don't tell anyone)
1 15 Ounce Can of Pumpkin Puree
1 15 Ounce Can of Sliced Stewed Tomatoes
2 Cups of Beef Broth
1/2 tsp Salt
1/4 tsp Pepper
1/4 Cup Chili Powder
1 15 Ounce Can Light Red Kidney Beans, Drained

1/4 tsp Cayenne Pepper
Brown your ground beef, pork, red pepper, 1/2 tsp salt, 1/2 tsp pepper and 5 garlic cloves until meat is brown. Drain fat. Mix all of the other ingredients into your browned meat, cover and let simmer for around 2 to 3 hours on low. Top with shredded cheddar, sour cream, green onions and crushed tortilla chips if you're into that sort of thing. And serve in a carved out miniature pumpkin if you want to make the world a happier place!!!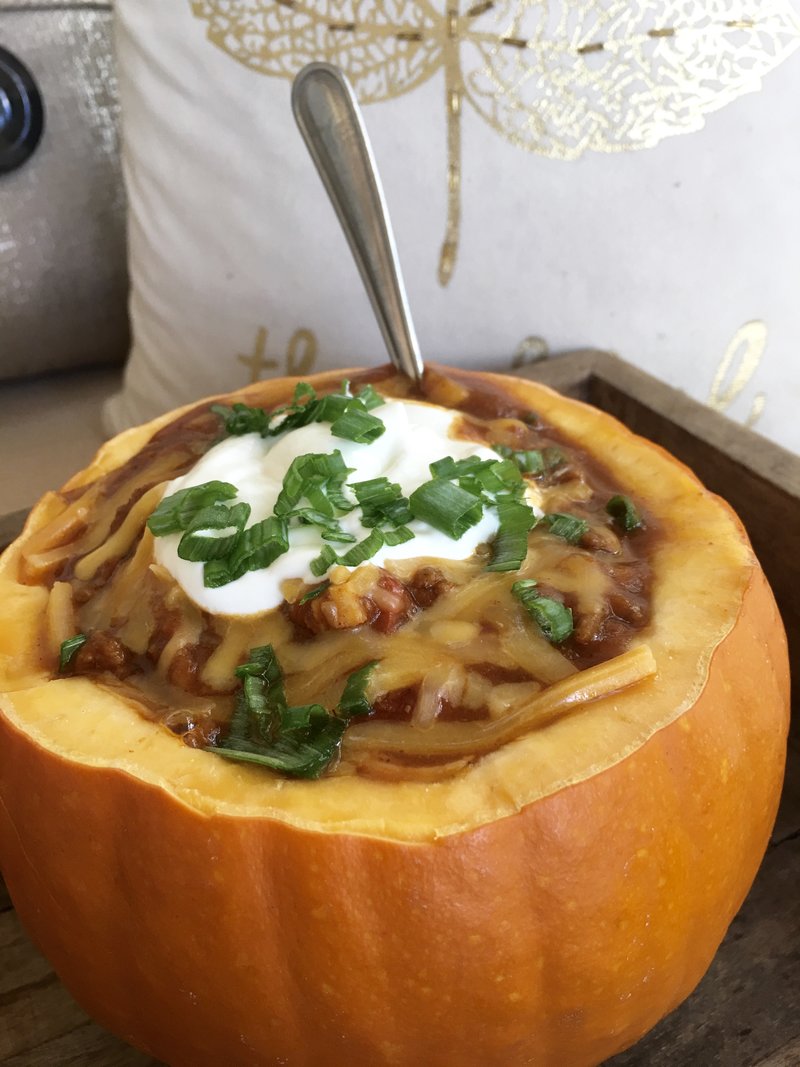 September 23, 2018
And so the pumpkin recipes continue. Yesterday morning, Good-Lookin' took Jack fishing and I found myself in the house and alone on the first morning of Fall. So, I did what any normal person would do and made some Pumpkin Muffins. These things are so good. They are big. They are moist. (Sorry if you hate that word.) And they have this crumb topping that will cause you to lick the plate if any of it crumbles off. The recipe can make 12 regular sized muffins or 6 big muffins. I'm a big muffin kind of gal so that's just how we roll around here. Oh, and you will also have enough batter to steal about 2 or 3 big spoonfuls for eating....if you're into that sort of thing.:) You know you are!!:) Happy Sunday my little pumpkins!!!!
Pumpkin Muffins
Batter:
1 1/2 Cups All Purpose Flour
1 Cup Sugar
1 tsp Baking Soda
1/2 tsp Salt
2 tsp Pumpkin Pie Spice
1 15 Ounce Can of Pumpkin Puree
1/4 Cup Whole Milk
1 tsp Vanilla
2 Eggs
6 TBSP Butter, Melted
Crumb Topping:
1/3 Cup White Sugar
1/2 Cup Brown Sugar
1 tsp Pumpkin Pie Spice
Dash of Salt
1/2 Cup Butter, Melted
Preheat oven to 350. Combine all of your dry ingredients for the batter in one bowl. In another bowl, combine all of your wet ingredients for the batter. Fold your dry ingredients into the wet ingredients just until they are combined. DO NOT stir too much. It can change the whole texture of your muffin if you do.:) Divide the mixture evenly among your greased, 6-Large Muffin Pan. In another bowl, mix all of the ingredients for your crumb topping together with a fork until you get those good-lookin' crumbles going on. Divide the crumbles evenly over the top of your muffins and slightly press down. Bake for roughly 30 minutes. (If you are making them in a 12 regular muffin pan, start checking on them at 15 minutes.) Let cool for atleast 10 minutes before removing from pan. If any of the muffins survive the first hour out of the oven and don't get eaten, you will want to microwave them for 10 seconds or so when you go to eat them. . .they are just more delicious with a little warmth to them! (Side Note: Everyone's ovens cook differently depending on the type of oven and your altitude. So, you will want to start checking on these at around 25 minutes or you may have an oven that will require them to cook 35 minutes or longer.)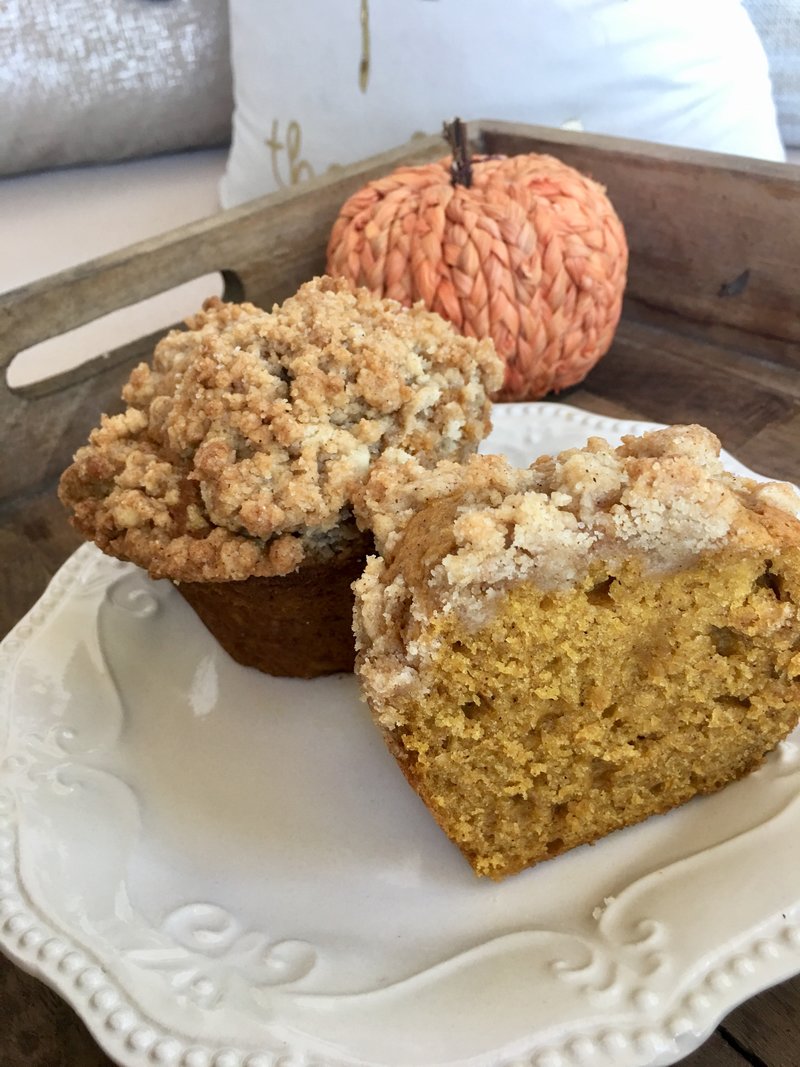 September 22, 2018
It's here! Happy First Day of Fall you guys! Let the edible uses of pumpkin begin! Last night, I kicked the party off a little early and made a Pumpkin Ricotta and Spinach Lasagna. Knock your socks off delicious I tell ya. I'm a huge fan of using pumpkin in savory ways. I almost prefer it more than pumpkin sweets. You guys must try this. . . even all you pumpkin haters out there! Good-Lookin', who isn't the biggest fan of pumpkin, ate half the pan. It's a meatless dish. which brought me back to our first year of marriage. You know how people have "Meatless Monday's?" Well, we had Meatless Mondays. And Meatless Tuesdays. And Meatless Wednesdays. And Meatless Thursdays. Meatless Everyday's. We were broke and trying to save every penny to buy our first house, so the majority of our suppers revolved around rice and $.50 bags of Walmart brand frozen mixed veggies. Ah, reminiscing. What a fun year that was. We were so young and weird and dumb and fabulous. Anyhow, I hope you try this out and love it! And be on the lookout for more yummy pumpkin cooking ideas this week! I'm pretty obnoxious and obsessed with pumpkin everything once the first week of Fall hits, so just bare with me,:) Happy Saturday and Happy Fall my little chefs!!!
Pumpkin Ricotta and Spinach Lasagna
2 TBSP Butter
1 Onion, Diced
3 Cloves of Garlic, Finely Chopped
1 15 Ounce Can of Pumpkin
1/2 Cup Half and Half
1 tsp Rubbed Sage
1/4 tsp Black Pepper
1 TBSP Sugar
1/2 tsp Salt
1 1/2 Cup Ricotta - Use Whole Milk Ricotta. It's the only way to live.
Dash of Salt
1/2 Cup Frozen Chopped Spinach, thawed. (If you buy the little 10 ounce bags, use roughly half of it.)
1 Egg
9 Oven Ready Lasagna Noodle. (Oven Ready lasagna is brilliant. And I owe my life to whoever created it.)
2 Cups Shredded Mozzarella
1/2 Cup Shredded Parmesan. (Notice I said Shredded and NOT GRATED.)
Chopped Parsley. About 1/4 of a Cup. If you don't have fresh parsley, just use about 1 TBSP dried parsley.

Preheat oven to 375. Melt your butter in a saucepan and saute your onion and garlic for about 5 minutes over medium heat. The onion will be translucent and slightly brown. Set aside. Mix together your pumpkin, half and half, sage, black pepper, sugar and 1/2 tsp salt. Once mixed, dump your onion and garlic into the pumpkin mixture. Set aside. In another bowl, mix together your ricotta (it better be whole milk. . .I'm watching you), dash of salt, spinach and egg. Grease a 9x13 pan. Spread about 1/4 of your pumpkin mixture on the bottom. Lay 3 of your noodles on top of the mixture. Top your noodles with 1/4 of pumpkin mixture and then 1/2 of the ricotta mixture. Sprinkle about 1/2 cup of the mozzarella on top of the ricotta mixture. Top with 3 more noodles. Then do another round of the pumpkin, ricotta and mozzarella just like in the previous step. Top with your remaining 3 noodles. Spread the remaining pumpkin mixture over the top. Make sure to spread it all of the way over your noodles, so it covers the edges. (Side Note - The pumpkin mixture will be sparse and you will ask yourself "Am I using enough of this? Does she know what she is talking about?" It's okay. It will be delicious, I promise.) Top with remaining mozzarella. Cover with foil and bake for about 25 Minutes. Remove foil and sprinkle your 1/2 Cup Shredded Parm and parsley over the top. Leave uncovered and bake for an additional 10 minutes. Bam! You're finished! Lasagna's cut a lot better if you let them sit for 5 minutes or so before going in for the kill.:) Hope you enjoy!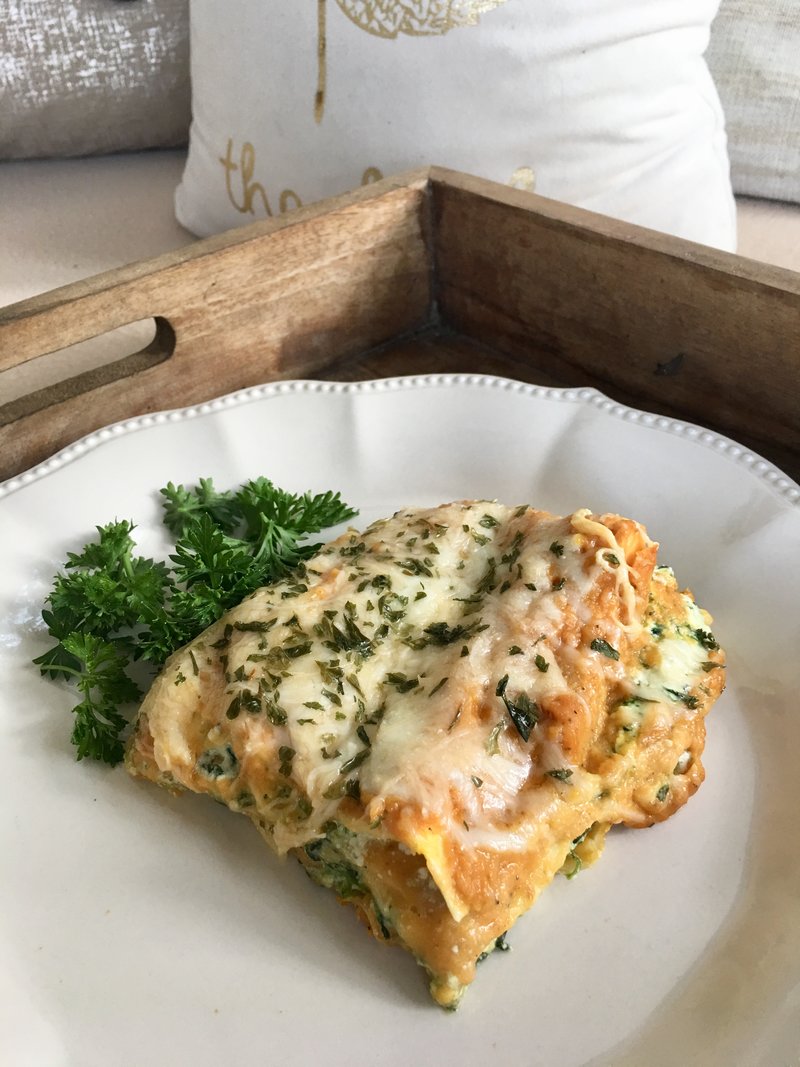 April 26, 2018
As my mind begins to drift to thoughts of summer days spent on the lake with family and friends, my taste buds begin to crave the yummies that go along with it. I would like to introduce you guys to what we call "Crack." It's this light, refreshing kind of like salsa, but more like black bean and corn salad sort of a thing. Crack goes good with chips. Crack goes good on grilled chicken. Crack goes good on fish tacos. That's right. Move out of the way plumbers! There's a new Crack in town! I was first introduced to this stuff over 10 years ago. We were at my brother-in-law's house and his sister-in-law whipped this stuff up. They called it "Crack" because it is addictive. Anyhow, seeing as we are coming up on a weekend with full sun and 80 degree heat, I wanted to share it with you guys because those are the best days to eat it! I have modified the original Crack over the years to make it a little more sexy on my palette. I hope you guys enjoy it!
Crack Recipe:
2 Cans Black Beans (rinsed and drained)
2 Cans White Corn (drained)
3 Cans Mild Rotel
2 Ripe Avocados (diced)
1/2 Red Onion (diced)
5 green onions (sliced)
1 Red bell pepper (diced)
a BUNCH of rough chopped fresh cilantro (we put about 3/4 cup, but do it to your liking)
1/4 cup lime juice
a little bit of salt
Mix everything up. This gets better after sitting over night in the fridge. This makes a massive bowl so there is plenty of Crack to go around!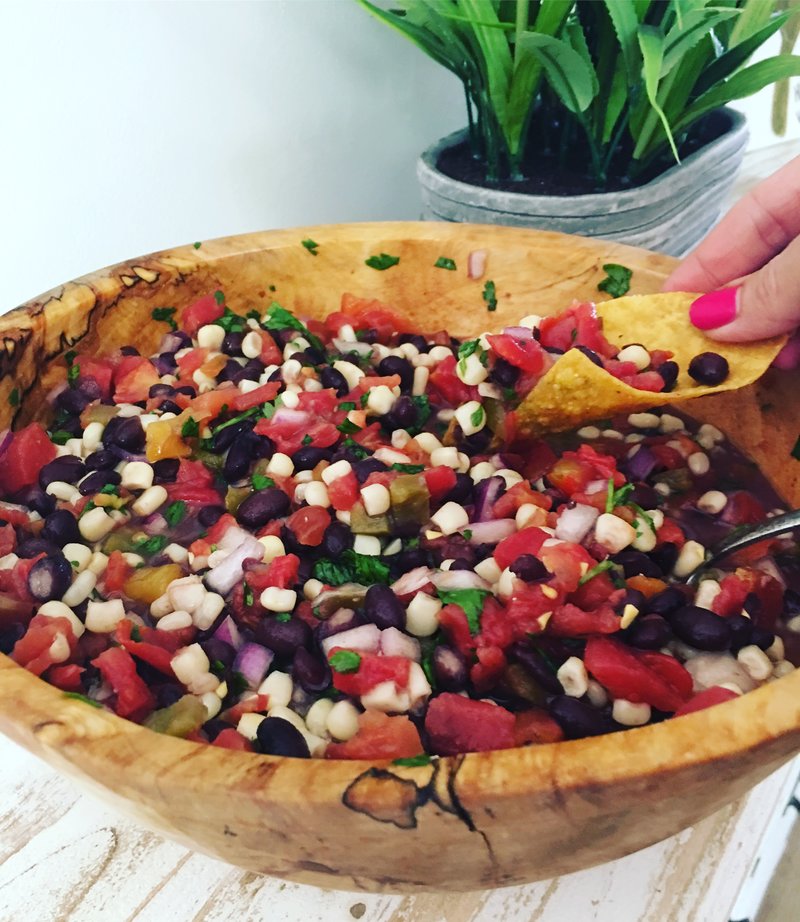 December 19, 2017:
It has been a crazy couple of weeks at Oconee Sign Shack. The holiday rush was very rushy, which left me short on time for cooking up big weekend breakfasts. I decided to make Jack a big batch of blueberry muffins, so he wouldn't go without a yummy homemade breakfast while I was in the midst of struggling to manage Oconee Sign Shack and being Martha Stewart at the same. :) Not to mention, they have fresh blueberries, so it's like getting a serving of fruit, right? I'm obviously winning at being a mother here!!! Whoot Whoot! Whoever thinks that muffins are ugly, depressed cupcakes. . .well your mind is about to be changed. These are some damn good muffins you guys and I highly suggest you make them. . .immediately.

Hugs,
Terri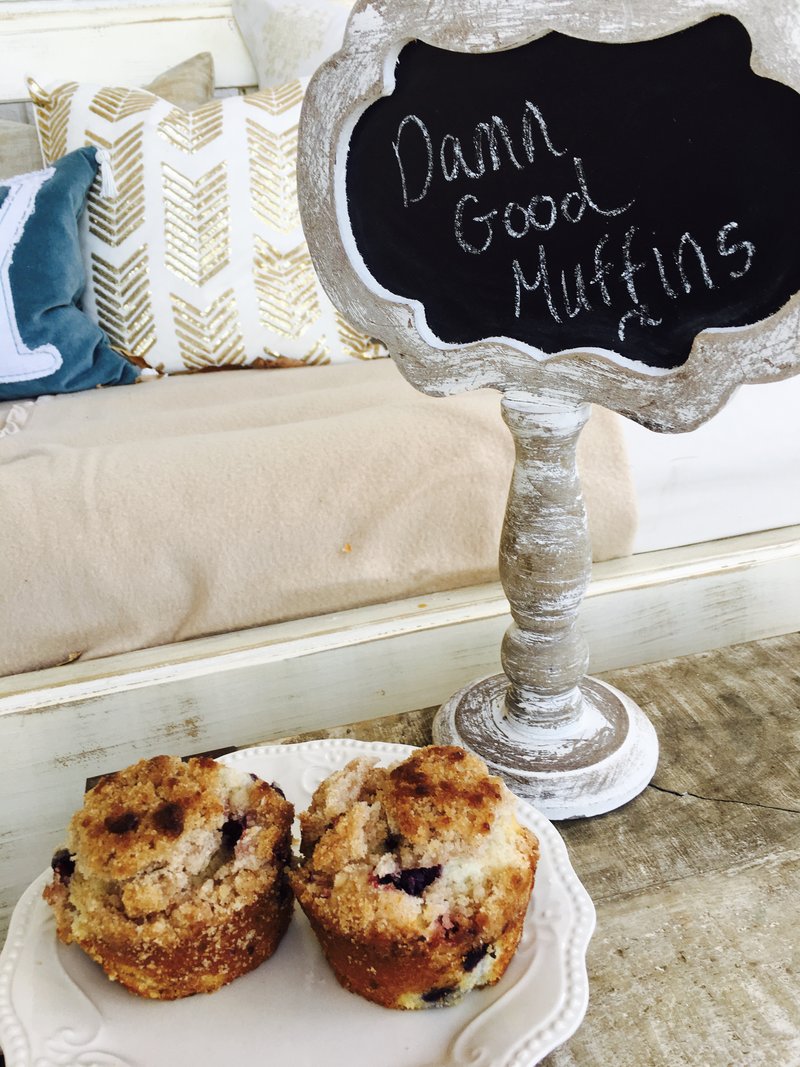 Damn Good Blueberry Muffins
-1 1/2 Cups All Purpose Flour
- 3/4 cup White Sugar
-3/4 tsp Salt
-2 tsp Baking Powder
-1/3 Cup Veggie Oil
- 1 Egg
- 1/3 Cup to 1/2 Cup Heavy Cream
- 2 TBSP Sour Cream
- 1 1/4 Cup Fresh Blueberries
Crumb Topping:

- 1/2 Cup White Sugar
- 1/3 Cup All Purpose Flour
- 1/4 Cup Butter, A little soft
- 2 tsp Cinnamon
Preheat oven to 400 degrees. Get your muffin tins greased or lined with baking cups/liners. I suggest using liners. They will make it easier for you to take the muffins out, plus you can get the cutest liners these days, which just makes for happier and cuter eats.

Mix together the first four ingredients and set aside. Mix together your egg, cream, oil and sour cream.  Star with only mixing in 1/3 cup of the cream. Add in flour mixture. If a little dry, add in your remaining heavy cream. Fold in blueberries. Do not over mix your muffin batter. . .it just needs to be stirred until every is incorporated. Divide your mixture into your muffin cups. Last, make your crumb topping. Using a food processor, pulse all of the ingredients for the crumb topping together until they form nice crumbs. Sprinkle over the top of your muffins and then bake for about 18 to 22 minutes, depending on your type of oven and altitude. . .you may need a little less time or you may need a little more. Don't overcook them! If done right, these little ladies taste even better and more moist on day two, so don't be afraid to make them ahead of time. Enjoy!
November 2017: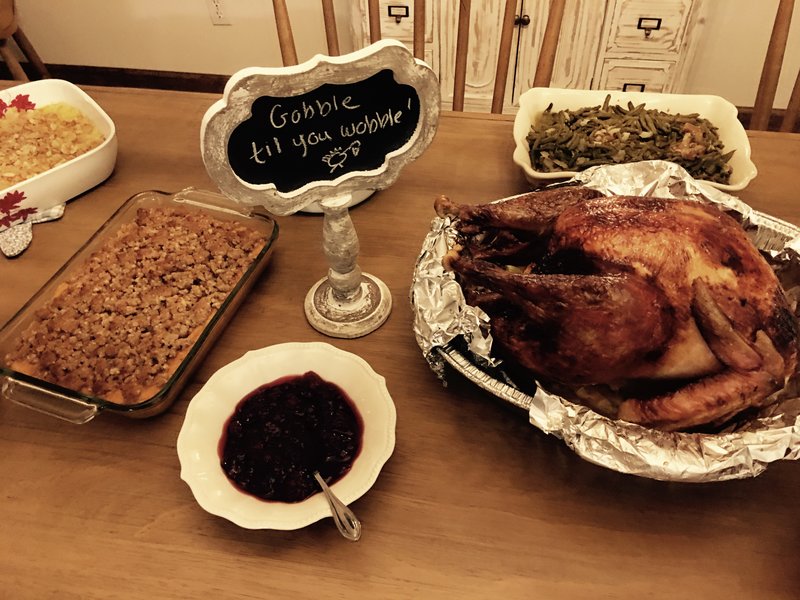 There was nothing better than sitting at my Grandmother's kitchen table during the holidays. I can still remember the aroma that filled her home that time of year and the sound the forks made as everyone scooped bites of food from those old green plates. This will be my 10th Thanksgiving without her. However, I can't help but feel her presence when I am cooking this time of year.  I was blessed to have not only the worlds greatest Grandmother, but the worlds greatest Grandmother that could cook. I would like to share with you guys all of the recipes for our family Thanksgiving. May you make them, may you love them, but most importantly, may they become recipes you can pass down for the generations to come. Come have Thanksgiving with me. . .
Hugs,
Terri

Turkey
20-22 pound Whole Turkey, neck and giblets removed
2 – 12 oz. cans of Ginger Ale (I know this seems weird, but it makes for the most moist turkey ever!!! I promise your turkey will not taste like Ginger Ale :) )

2 Cups of Chicken Broth
2 TBSP Rubbed Sage
2 TBSP Lemon Pepper
2 TBSP Dried Parsley
2 TBSP Dried Rosemary
2 TBSP Dried Thyme
1 TBSP Salt
3 Stalks Celery, Chopped
2 Oranges, Wedged
2 Small Onions, Chopped
2 Carrots, Chopped
Preheat oven to 350 degrees.
Make sure you have removed the neck and giblets from the turkey, Rinse the turkey thoroughly with water and pat dry. Place in Roaster Pan.
Mix together the sage, lemon pepper, parsley, rosemary, thyme and salt. Rub all inside the cavity of turkey.
Stuff the cavity with the celery, oranges, onions and carrots.
Pour chicken broth and ginger ale over turkey and inside cavity.
Cover the turkey with aluminum foil.
Bake for 4 hours. Remove the aluminum foil and bake an additional 30 minutes so the skin will get a pretty, golden look to it.
Make sure to save all of the delicious drippings for your gravy! You can place them in a pot, whisk a couple tablespoons of cornstarch with about ¼ cup cold water and then stir into the drippings. Bring to a low boil to thicken. You may need to add a little more corn starch/cold water mixture to thicken as desired.
Enjoy!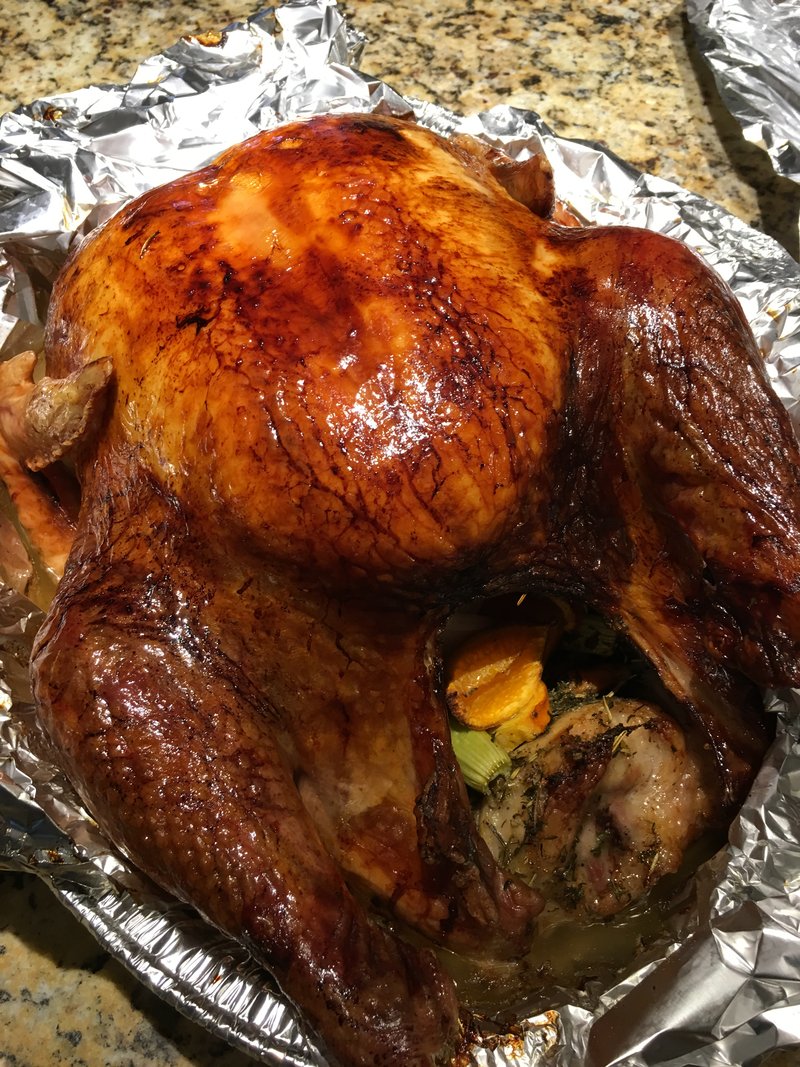 Grandmother's Dressing
2 8x8 Pans of Cornbread Crumbled
1 Loaf of White Bread
8 Stalks of Celery
3 Medium Onions
2 Sticks of Melted Butter
2 TBSP Rubbed Sage
1 TBSP Salt
6 Eggs. Beaten
5 Cups of Chicken Broth (you can use your turkey drippings if you will not be using them for gravy)
Preheat oven to 350 degrees. Grease two – 9x13 pans.
In a food processor, process your loaf of white bread until it is in little crumbs. Pour into a very large mixing bowl along with the crumbled cornbread.
Put onion and celery into food processor and process until very fine. Pour into your large mixing bowl with the bread and cornbread.
Stir in your melted butter, eggs, salt, sage and chicken broth. Mix well.
Divide equally into 2 – 9x13 pans.
Bake, uncovered, for around 45 minutes to 1 hour, depending on your oven and altitude.
Enjoy!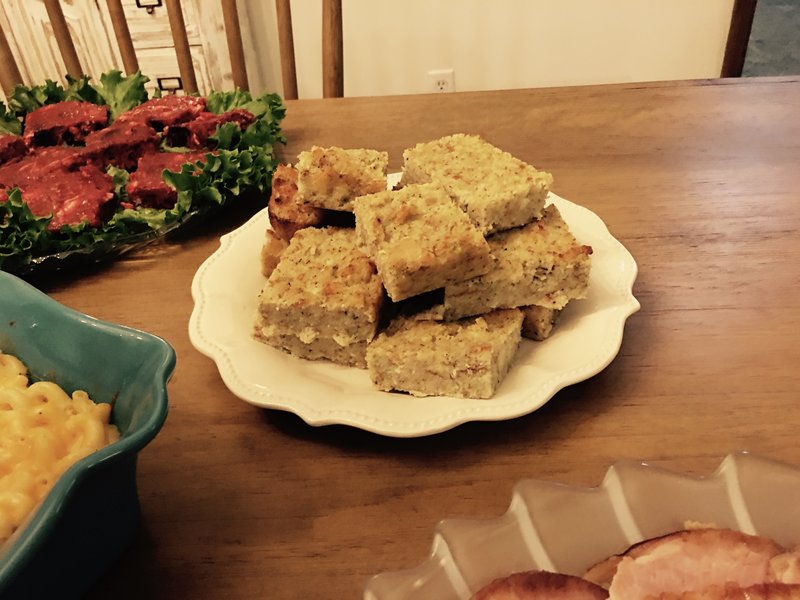 Sweet Potato Casserole
6 Medium Sweet Potatoes, Cooked and Peeled
½ Cup Melted Butter
1 Cup White Sugar
2 Eggs
1 tsp. Vanilla
¼ tsp. Nutmeg
1 tsp. Cinnamon
¼ Cup Heavy Cream
Topping:
½ Cup Butter
1 ¼ Cup Brown Sugar, Not Packed
¼ Cup White Sugar
1/3 Cup All Purpose Flour
1 Cup Walnuts
Preheat oven to 350 degrees. Grease a 9x13 Baking Pan.
Beat together all ingredients except for topping ingredients and pour into the 9x13 pan. In a food processor, pulse all topping ingredients together until crumbs form. Sprinkle crumb mixture over the top of the potato mixture. Cover with aluminum foil and bake for 30 minutes. Enjoy!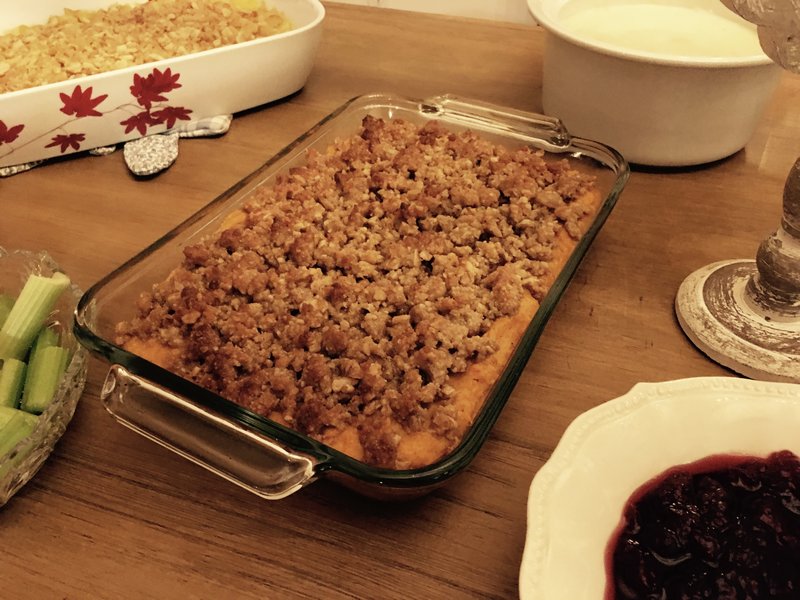 Green Beans
6 Cans Whole Green Beans (you can also use around 9 cups of fresh green beans, however, they usually aren't in season during Thanksgiving so I will just use the cans)
8 Slices of Bacon
2 Small Onions, Chopped
Salt and Pepper to taste
2 tsp. Sugar
2 TBSP Butter
Cook bacon in large pot for around 2 minutes per side on low. It will still be undercooked. Remove from pot, leaving grease in the pot. Stir in butter and onion and cook for about 5 minutes on medium. Add in the 6 cans of beans (along with the liquid from the cans), sugar, bacon, salt and pepper. Cover and let cook on medium for around 30 to 45 minutes. (If you are using the 9 cups of fresh green beans, you will need to add in around 5 cups of chicken stock and allow the beans to cook about 2 hours.) The beans will be finished once most of the liquid has evaporated. Enjoy!
Grandmother's Creamed Corn
8 Cups of White Corn (I use frozen during the fall/winter since corn isn't in season)
7 TBSP Sugar
4 TBSP Bacon Grease
7 TBSP all purpose Flour
4 Cups Whole Milk
1 Cup Water
4 TBSP Butter
Salt and Pepper To Taste
In a large mixing bowl, mix together corn, flour, sugar, salt and pepper until all of the corn is coated good.  Pour in milk and water and stir together. In a large skillet, heat bacon grease. Pour in corn mixture, cover, and cook on medium low for about 30 minutes. Add in butter and cook an additional 15 minutes. Enjoy!
Sweet Tea – (aka Southern Wine)
4 Cups Boiling Water
3 Family Size Tea Bags
¼ tsp. Baking Soda (this helps kill the bite)
12 Cups Cold Water
2 Cups Sugar
After you have boiled your water, remove from stove and put tea bags in. Cover and allow to steep for about 25 minutes. In a large pitcher, pour the hot tea (discarding your tea bags) and stir in baking soda and sugar until sugar is dissolved. Stir in the cold water. Enjoy!
Grandmother's Skillet Squash
12 Large Squash, Sliced
2 Large Onions, Chopped
Salt and Pepper To Taste
¼ Cup Bacon Grease
Place squash in a large pot and cover with water. Boil for about 20 minutes until tender.  Drain really well. (Squash retains a lot of water, so allow it to sit in the colander to drain for about 10 minutes or so.) Heat bacon grease in large skillet and add in onion. Cook for about 5 minutes.  Add in squash and cook on medium for about 20 to 30 minutes until any liquids have evaporated. Enjoy!
Sausage Balls
1 Pound Pork Sausage
1 Pound Shredded Sharp Cheddar Cheese
3 Cups Bisquick
Preheat oven to 400 degrees.  Grease a large baking sheet. Mix all ingredients together and roll into marble sized balls. Bake for 15 minutes. Enjoy!
Grandmother's Coca-Cola Salad
3 Oz. Raspberry Jell-O
3 Oz. Cherry Jell-O
14 ½ Oz. Can Pitted Bing Cherries
20 oz. Can Crushed Pineapple
1 Cup Pecans, Finely Chopped
8 Oz. Cream Cheese, Frozen
2 Cups Coca-Cola
Drain cherries and pineapple and reserve the juice. Bring the reserved juices from the cherries and pineapple to a boil and dissolve the cherry and raspberry Jell-O into it. Remove from heat and stir in cherries, pineapple, pecans and coke. Roll frozen cream cheese into lots of mini balls and stir into mixture. Pour into a 9x13 pan.  Cover with plastic wrap and let congeal in fridge. I know this sounds weird, but it is something my Grandmother made that I always loved at Thanksgiving! I hope you do too! (If you want to serve it like Mary Charles Johnson, you must cut it into squares and then line a plate with some boston leaf lettuce and place the squares of coca-cola salad on the lettuce. :)

Buttermilk Pie
1 cup Butter, Melted
3 Cups Sugar
6 TBSP Flour
6 Eggs, Beaten
2 tsp. Vanilla
2 Cups Buttermilk
Dash of Salt
2 Deep Dish Pie Shells
Preheat oven to 350 degrees. Beat all ingredients together and divide equally into your 2 pie shells. Bake for around 35 to 40 minutes or until toothpick comes out clean when inserted into middle of pie. Let cool and put in fridge until ready to eat. These stay good for several days so can be made ahead of time.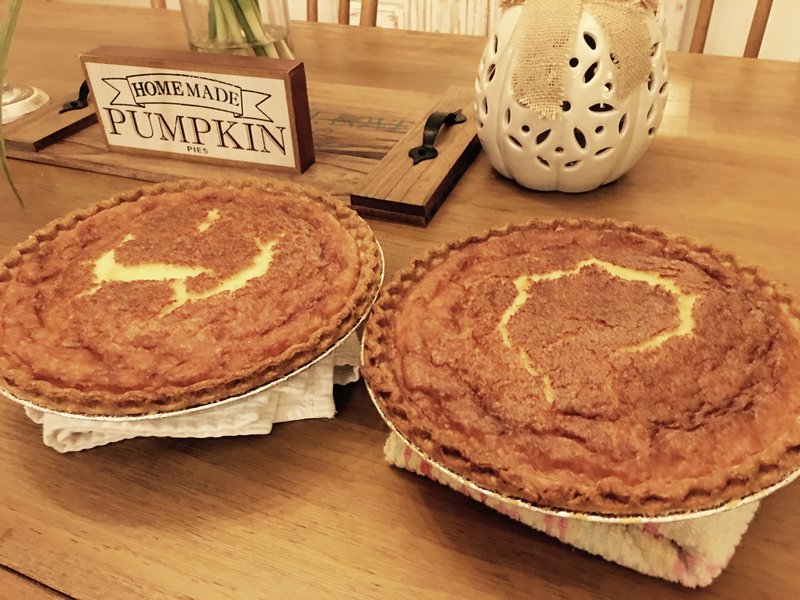 Ham
The only appropriate recipe I have for a ham is to call Honey Baked Ham ASAP and place your order. I have even gone as far as buying a blow torch to try to crystalize the crust like they do, but I just can't figure it out. . .nothing beats a honey baked ham.:)

My sweet Grandmother, Mary Charles Johnson, and yours truly at my wedding in May of 2007. . .